NOTE: Please note that you can click on any image below to enlarge it.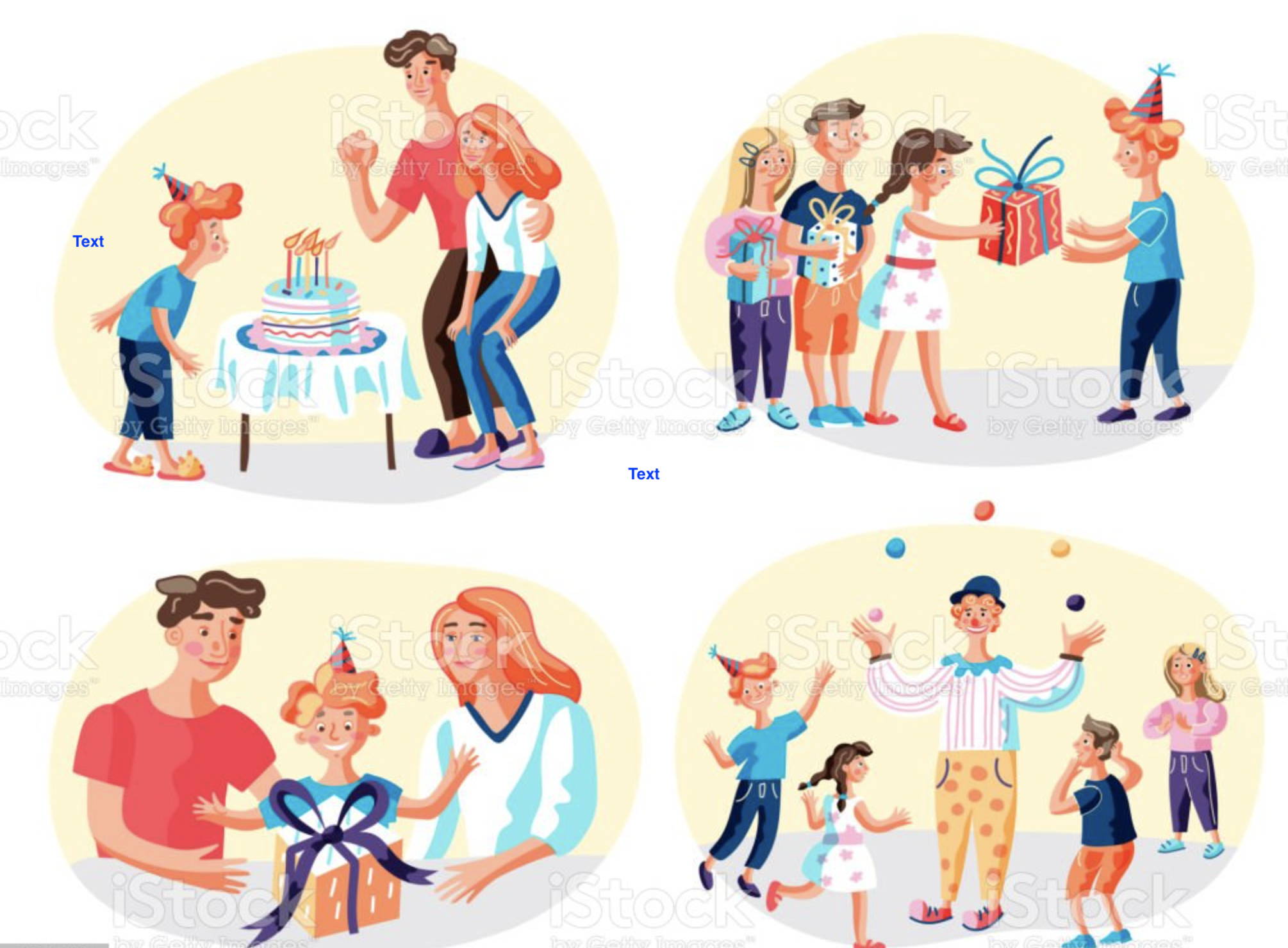 Learn at least 10 sentences from the table below.
Punjabi Transliteration / Gurmukhi
English Sentence
Audio

1. Ajj Aman da janam-din hai
ਅੱਜ ਅਮਨ ਦਾ ਜਨਮਦਿਨ ਹੈ।

2. Aman ate os di bhein Noor ne ghar nu boht sundar sajjaya hai
ਅਮਨ ਅਤੇ ਉਸ ਦੀ ਭੈਣ ਨੂਰ ਨੇ ਘਰ ਨੂੰ ਬਹੁਤ ਸੁੰਦਰ/ਸੋਹਣਾ ਸਜਾਇਆ ਹੈ।

Aman and his sister Noor have beautifully decorated the house.

3. Ajj Aman ate Noor boht khush han
ਅੱਜ ਅਮਨ ਅਤੇ ਨੂਰ ਬਹੁਤ ਖੁਸ਼ ਹਨ।

Today, Aman and Noor are very happy.

4. Ajj Aman de ghar osde dost aaye han
ਅੱਜ ਅਮਨ ਦੇ ਘਰ ਉਸਦੇ ਦੋਸਤ ਆਏ ਹਨ।

Today, Aman's friends have come to his house.

5. Aman de dosta(n) de hatha(n) vich ikk dabba hai
ਅਮਨ ਦੇ ਦੋਸਤਾਂ ਦੇ ਹੱਥਾਂ ਵਿਚ ਇੱਕ ਡੱਬਾ ਹੈ।

There is a gift box in the hands of Aman's friends.

6. Dabbe vich Aman de janam-din da tohfa hai
ਡੱਬੇ ਵਿਚ ਅਮਨ ਦੇ ਜਨਮਦਿਨ ਦਾ ਤੋਹਫ਼ਾ ਹੈ।

Inside the box is a gift for Aman's birthday.

7. Anam de mata ji ne ikk boht sohnna cake bannaya hai
ਅਮਨ ਦੇ ਮਾਤਾ ਜੀ ਨੇ ਇੱਕ ਬਹੁਤ ਸੋਹਣਾ ਕੇਕ ਬਣਾਇਆ ਹੈ।

Aman's mother has made a beautiful cake.

8. Aman cake katda hai
ਅਮਨ ਕੇਕ ਕਟਦਾ ਹੈ। 

9. Bachhe Janam-din da geet gaaunde han
ਬੱਚੇ ਜਨਮਦਿਨ ਦਾ ਗੀਤ ਗਾਉਂਦੇ ਹਨ।

The children sing the birthday song.

10. Saare taaddiya(n) vajaaundey / maardey han
ਸਾਰੇ ਤਾੜੀਆਂ ਵਜਾਉਂਦੇ / ਮਾਰਦੇ ਹਨ।

11. Noor ne Aman nu ikk laal kaar tohfe vich ditti hai
ਨੂਰ ਨੇ ਅਮਨ ਨੂੰ ਇੱਕ ਲਾਲ ਕਾਰ ਤੋਹਫੇ ਵਿਚ ਦਿੱਤੀ ਹੈ।



Noor has given Aman a red car as a gift.




12. Bachhe Nachde han
ਬੱਚੇ ਨੱਚਦੇ ਹਨ।




13. Bache khed-de han
ਬੱਚੇ ਖੇਡਦੇ ਹਨ।



14. Saare hasde han
ਸਾਰੇ ਹੱਸਦੇ ਹਨ।



15. Saare maje kardey han
ਸਾਰੇ ਮਜੇ ਕਰਦੇ ਹਨ।



16. Saare Ikathe roti khandey han
ਸਾਰੇ ਇੱਕੱਠੇ ਰੋਟੀ ਖਾਂਦੇ ਹਨ।



17. Cake te khanna boht sawaad hai
ਕੇਕ ਤੇ ਖਾਣਾ ਬਹੁਤ ਸਵਾਦ ਹੈ।



The cake and food are very delicious.

18. Ghar vich boht raunak hai
ਘਰ ਵਿਚ ਬਹੁਤ ਰੌਣਕ ਹੈ।



There is a lot of joy / liveliness in the house.

19. Saare ikk duje naal galla(n) karde han
ਸਾਰੇ ਇੱਕ ਦੂਜੇ ਨਾਲ ਗੱਲਾਂ ਕਰਦੇ ਹਨ।



They all talk to each other.

20.Akhir vich saare bachhe aapnne ghar vapis jandey han
ਅਖੀਰ ਵਿੱਚ ਸਾਰੇ ਬੱਚੇ ਆਪਣੇ ਘਰ ਵਾਪਿਸ ਜਾਂਦੇ ਹਨ।



Finally, all the children go back to their homes.