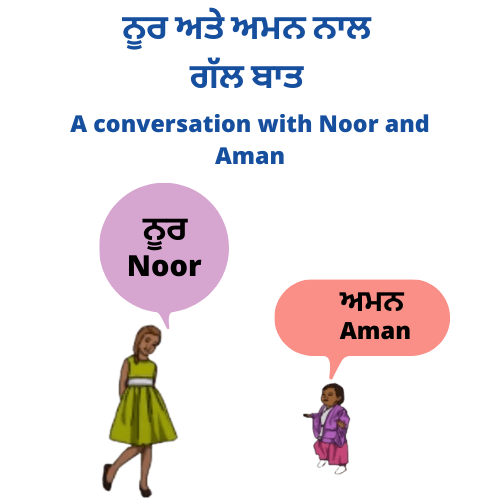 Learn Punjabi Speaking Conversation
Learn Conversation in Punjabi
ਨੂਰ - Noor

ਅਮਨ - Aman

Aman, Ajj ki vaar hai?
Aman, What's the day today?

Bhein ji, Ajj Aitvaar hai.
Dear Sis, today is Sunday.

Te Kal ki vaar si?
And what was the day yesterday?

Kal Shanicharvaar si.
Yesterday was the Saturday.

ਨੂਰ - Noor

ਅਮਨ - Aman

Ate, tenu (tuhanu) pata hai ki hafte vich kinne din hunde han?
And, do you know how many days are there in a week?

Hanji, hafte vich satt din hunde han.
Yes, there are 7 days in a week.

Bilkul theek.
Exactly!



ਨੂਰ - Noor

ਅਮਨ - Aman

Te, ajj sakool nahi jana?
And, don't you have to go to school today?

Nahi, ajj meri chutti hai.
No, today is my holiday!

Theek hai :)
Ok. :) 



To learn Punjabi in a well structured and organized manner at your own pace from the comfort of your home, join

Punjabi Charm Academy

Today!

Join Now to Start Your Punjabi Learning Journey!
HURRY!! Accepting Limited Applicants Only.