Regular price
Sale price
$10.00 USD
Unit price
per
Sale
Sold out
Book a Punjabi Group Assessment class, the first step towards joining our vibrant Punjabi group classes! In this personalized 30-minute video call, you will have the opportunity to connect with me on a one-on-one basis.
During the assessment, I will evaluate your current level of Punjabi proficiency, identifying your strengths and areas for improvement. 
Once the assessment is complete, you will be assigned to a suitable group that matches your proficiency level. This allows you to engage with peers who are at a similar stage in their Punjabi learning journey, creating an interactive and supportive environment for shared growth.

NOTE: Once you book this class, you will receive an email from me (in next few days) to schedule a time that suits best for both of us. Looking forward to working with you on your Punjabi Learning Journey!
Share
View full details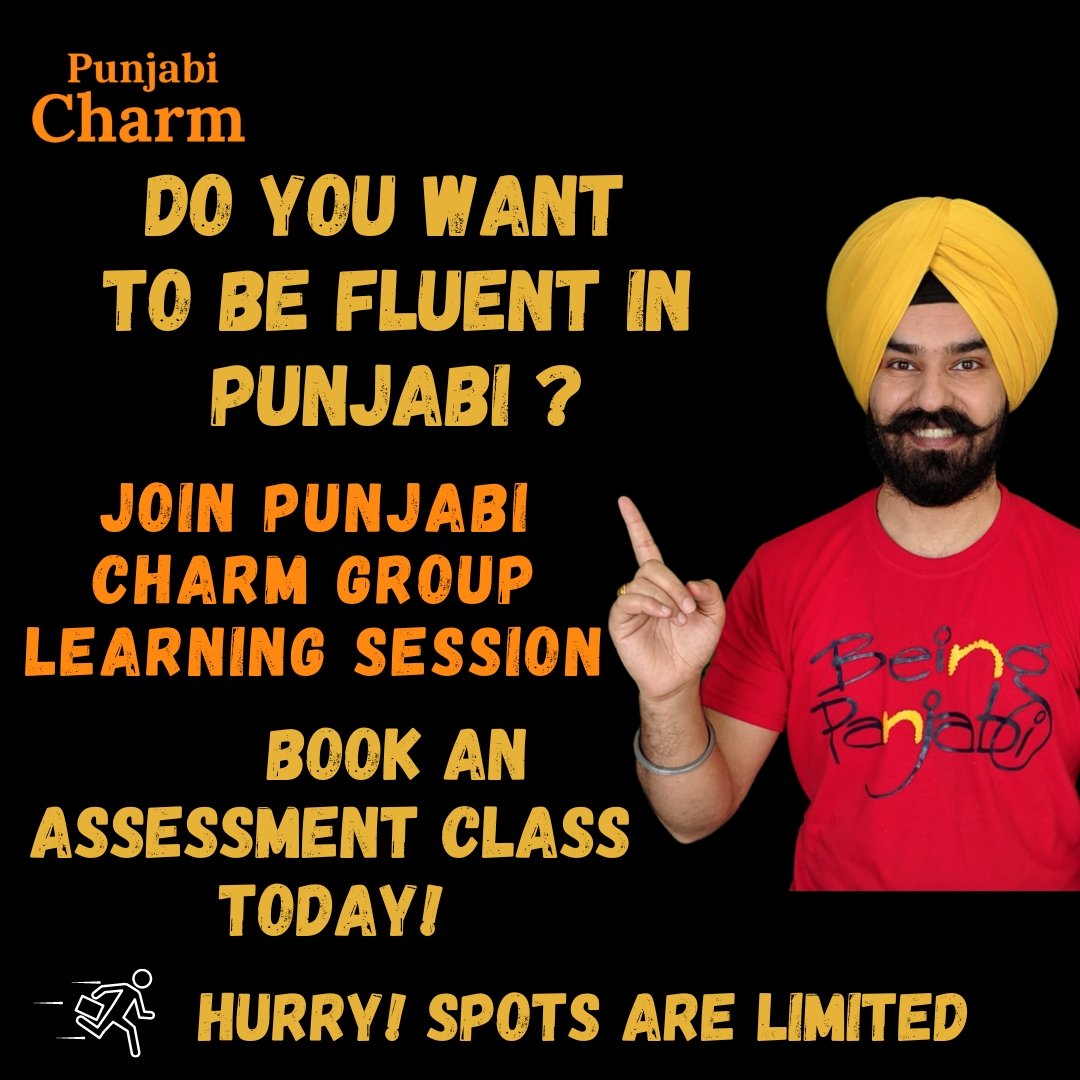 FAQs
How can I join the Punjabi Learning Groups?

The process to join the Punjabi learning groups involves two steps.

First Step:
Book a Punjabi proficiency level assessment. This assessment class will be a 30 min one-on-one class with me in which I will evaluate your current language skills and determine your proficiency level.

Second Step:
Based on the assessment results, I will then place you in a group that aligns with your level of proficiency.
How long is each group class session?

Each group class session is scheduled for 60 minutes. This duration allows for effective learning and engagement while accommodating the needs of learners within the group.
When are the group classes starting?

The group classes are scheduled to start in mid-June. Registered learners will be notified via email regarding the exact start date, schedule, and any additional instructions or requirements.
I won't be able to join the group classes in mid-June, but I am available to start in July. What options do I have?

If you are unable to join the group classes in mid-June, you can still reserve your spot by booking an assessment class. During the assessment, your proficiency level will be assessed, and you can discuss your availability with the instructor. When you are ready to join, you can start the classes at a later date, such as in July. Our team will work with you to accommodate your preferred start date whenever possible.
I am interested in joining the Punjabi learning program. When can I register for it?

We are thrilled to hear about your interest! The booking for the first assessment class is currently open, and you can reserve your spot anytime. However, please note that spots are limited, so we recommend registering as soon as possible to secure your place in the upcoming group classes.
How can I reach the Punjabi Learning Platform if I have further questions or need assistance?

We're happy to assist you! For any questions or assistance, you can reach out to us via email at contact@punjabicharm.com. Our dedicated team will promptly respond to your inquiries and provide the necessary support you need throughout your Punjabi learning journey.